Bring us a couple of records and we will RESTORE them for you at no cost!  We look forward to seeing you AT ANY OF THE SHOWS!
STAFF ARE LOOKING FORWARD IN SHOWING YOU FIRST HAND OUR GROOVE RESTORATION PROCESS.  NOW A PROVEN  PROCESS THAT DELIVERS IMMEDIATE AND DISCERNABLE  RESULTS.  OUR SYSTEM PROVIDES  YOU WITH  THE "BEST BANG FOR YOUR DOLLAR SPENT". WHY SPEND OVER $3,000 PLUS FOR A NEW CARTRIDGE, CABLE, TONEARM, OR T-T INTERCONNECT CABLE UPGRADES. Hear the music the way it was pressed with the release agent (Pressing oil, disc Shure Brothers 1977), from new and old pressings now removed as well as the films left over from prior cleaning processes and the film on the record left by the outgassing of the plasticizer trapped in the record's sleeve!
OUR NEXT EVENT:
Record Restration Session in Riga, Latvia, with Charles Kirmuss. Charles travels to his parent's homeland to meet Latvian vinyl record enthusiasts and audiophilee. Starting at 16:00, September 29 2023. Refreshments served!
For reservations: Contact;
Monika Bokari
Ph: +371 26213399
e-mail: monika@pro1.lv
e-mail: bokari.monika@gmail.com
http://www.pro1soundstore.com
www.pro1.lv
ALSO OCT 7 AND 8 2023, Meet Kirmuss at the UK Audio Show.
Discover how records are made. How to take care of them. Don't forget to bring us at the event from home a record to restore, with A-B before and after processing auditions and measuring.
OTHER EVENTS: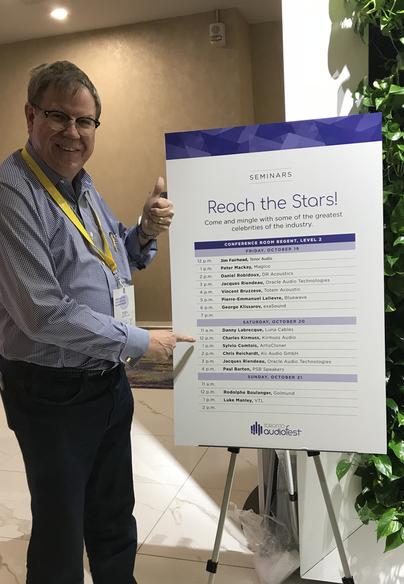 FEB 17-19 2023 FLORIDA AUDIO EXPO AUDIO SHOW Embassy Suites Westshore in Tampa. What a Great Show! Thanks Bart!
See you next year!
APRIL 14-16 2023 AXPONA 2023 at the SCHAUMBERG RENAISSANCE CONVENTION CENTER, IL. Thanks to all that attended! We were a proud Co-Sponsor of the Anne Bisson Musical Event. We had over 72 people at our Masterlass Theatre Event, standing room only!
See you next year!
JUNE 17-18 2023 NW AUDIO SHOW, DeVere Cranage Estate, Cheshire, UK. Bravo UK Staff! Many new Dealers signed up as Authorized Kirmuss Resellers.
WOW WOW WOW, WHAT A GREAT EVENT.
JUNE 9 - 11 2023 T.H.E. Show SoCal,
Hilton Orange County Costa Mesa. Had a great time restoring records that were brought in. See you next year! Bravo Maurice and Emiko!
JUNE 23 – 25 2023
PACIFIC AUDIO FEST,
DoubleTree by Hilton Hotel Seattle Airport
Thanks to those of you that brought in records for us to restore! See you next year!
NEXT EVENT IN EUROPE:
UK AUDIO SHOW, STAVERTON PARK HOTEL
Saturday 7th October 2023, 10:00am – 6:00pm
Sunday 8th October 2023, 10:00am – 4:00pm
Check for times for the KirmussAudio open forum on record care.
IN 2023: Hope we see you at: , Toronto Audiofest, The Capital Audio Show, Tokyo Hi-Fi Show , Macau Audio Show, Taipei High End Show, Australia Audio. (Dates to be announced).