Bring us a couple of records and we will RESTORE them for you at no cost!  We look forward to seeing you AT ANY OF THE SHOWS!
STAFF ARE LOOKING FORWARD IN SHOWING YOU FIRST HAND OUR GROOVE RESTORATION PROCESS.  NOW A PROVEN  PROCESS THAT DELIVERS IMMEDIATE AND DISCERNABLE  RESULTS.  OUR SYSTEM PROVIDES  YOU WITH  THE "BEST BANG FOR YOUR DOLLAR SPENT". WHY SPEND OVER $3,000 PLUS FOR A NEW CARTRIDGE, CABLE, TONEARM, OR T-T INTERCONNECT CABLE UPGRADES. Hear the music the way it was pressed with the release agent from new and old pressings now removed!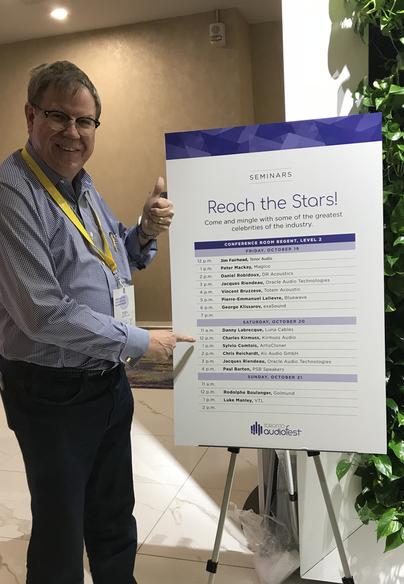 FEB 17-19 2023 FLORIDA AUDIO EXPO AUDIO SHOW Embassy Suites Westshore in Tampa. What a Great Show! Thanks Bart! See you next year!
APRIL 14-16 2023 AXPONA 2023 at the SCHAUMBERG RENAISSANCE CONVENTION CENTER, IL. Thanks to all that attended! We were a proud Co-Sponsor of the Anne Bisson Musical Event. We had over 72 people at our Masterlass Theatre Event, standing room only!
NEXT EVENT: JUNE 9 - 11 2023 T.H.E. Show SoCal,
Hilton Orange County Costa Mesa.
Bring us a record to restore, not just surface shine. Will have a turntable and equipment provided by both Grado and Jeff Rowland Design for before and after auditioning!
JUNE 23 – 25 2023
PACIFIC AUDIO FEST,
DoubleTree by Hilton Hotel Seattle Airport
IN 2023: Hope we see you at: , UK Northwest Audio Show, Munich High-End Deluxe, Audio Advice Live, Toronto Audiofest, The Capital Audio Show, Tokyo Hi-Fi Show , Macau Audio Show, Taipei High End Show, Australia Audio. (Dates to be announced).