Bring us a couple of records and we will RESTORE them for you at no cost!  We look forward to seeing you AT ANY OF THE SHOWS!
NEWS: COMING TO DENVER, OUR HOME TOWN!  SEPT. 5 TO 8, 2019
Announcing the annual ROCKY MOUNTAIN AUDIO FEST 2019.  To be held at the new GAYLORD ROCKIES RESORT AND CONVENTION CENTER.
The highly acclaimed KirmussAudio Record Groove Restoration System will be PRESENTED BY LISTEN UP, Colorado's and New Mexico's premiere audio dealer. LOOK FOR US in the LISTEN UP STUDIO, ROOM 7105, near the East Elevator oin the vast complex.
AS A SHOW SPECIAL, ORDERS TAKEN AT THE SHOW WILL SEE $130 OF ACCESSORIES ADDED AT NO COST. SALE $ 860.00. ( To include: 1 set of 40 KirmussAudio  Anti-Static, Anti-Fungal, NON PVC, HDPE Record Sleeves, and a 300 ml bottle of extra surfactant spray).  (VALUE OF $985.00). The Listen Up RMAF Sale Ends Sept 12 2019.
Listen to records restored by our system, also on display at the JEFF ROWLAND DESIGN / CLASSIC ALBUM SUNDAYS EVENT at RMAF, ROOM 8175.
STAFF AND I  ARE LOOKING FORWARD IN SHOWING YOU FIRST HAND OUR GROOVE RESTORATION PROCESS  IN THE LISTEN UP SUITE.   A PROCESS THAT DELIVERS IMMEDIATE AND DISCERNABLE  RESULTS.  OUR SYSTEM PROVIDES  YOU WITH  THE "BEST BANG FOR YOUR DOLLAR SPENT". WHY SPEND OVER $3,000 PLUS FOR A NEW CARTRIDGE, CABLE, TONEARM, OR T-T INTERCONNECT CABLE UPGRADES. Hear the music the way it was pressed with the release agent from new and old pressings now removed!
HOT OFF THE PRESS:
After a year of testing our system is ENTHUSIASTICALLY RECOMMENDED AS IT WORKS", "...AND ITS AFFORDABLE";  quoting  Michael Fremer, Stereophile, July 2019.  AT RMAF: I ASO WILL BE A PANELIST AT THE RECORD CLEANING SESSION HOSTED BY MR. FREMER ON FRIDAY, SEPT 6 AT 1:15 PM. ALSO I WILL BE PRESENTING A GENRIC SEMINAR  ON " HOW RECORDS ARE MADE AND HOW TO CARE FOR THEM" .. DEMYSTIFYING RECORD CARE, THIS ON SUNDAY,  SEPT 8 AT 12:00 TO 1 PM.  BE PRESENT TO HAVE A CHANCE TO WIN $100 OFF A SYSTEM.
ALSO NOTE OUR OTHER UPCOMING SHOWS: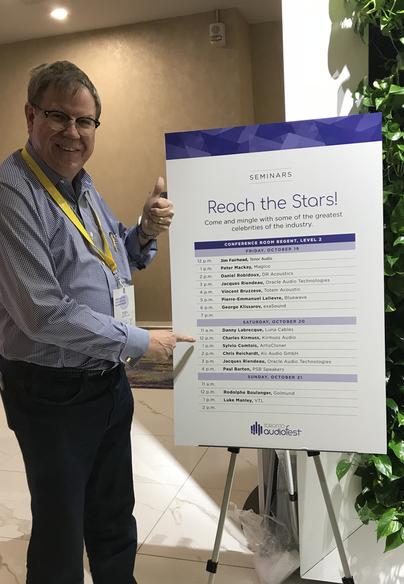 OCT 27 - 27, 2019 
The UK HiFi SHOW: The ultimate HiFi experience-LIVE!
Ascot Racehorse Grandstands, Ascott, UK
Oct 18-20, 2019
TORONTO AUDIO FEST
The Westin Toronto Airport
Nov 1 -3, 2019
CAPITOL AUDIO FEST
Hilton Washington Rockville Hotel & Exec Center
Nov 11 – 14, 2019
TOKYO INTERNATIONAL AUDIO SHOW
Tokyo International Forum