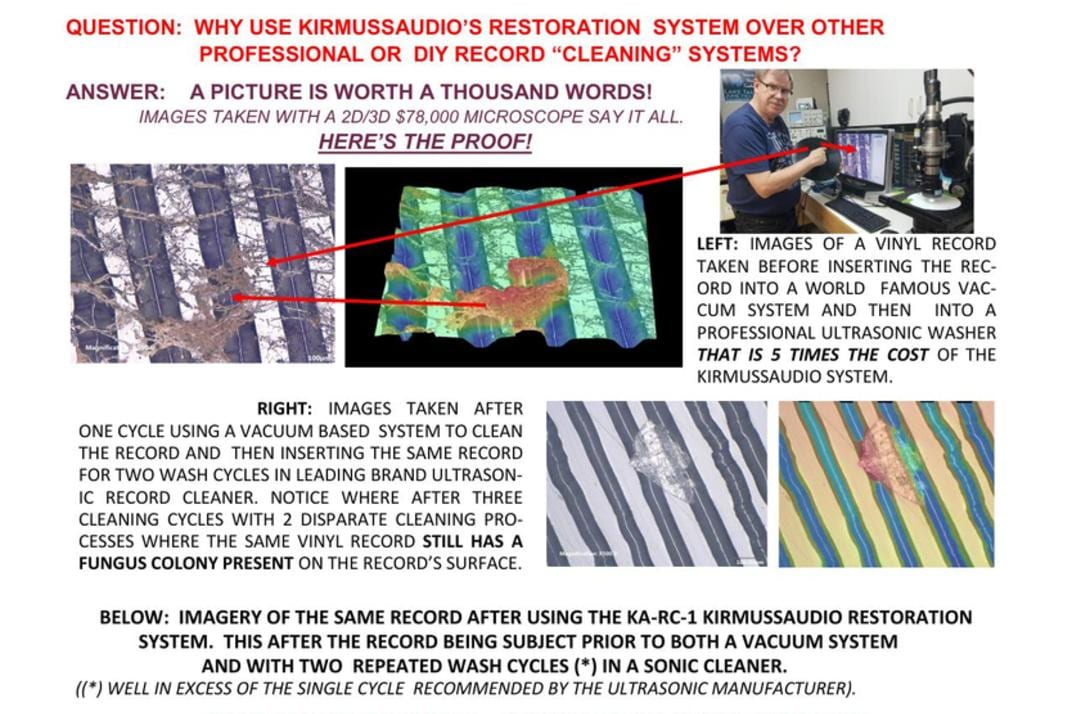 Seeing, Hearing, Is Believing. The Images Validate Our Process.
Our total process: designed by engineers and consulting chemists with over 5 years of research, we are PVC safe and record groove friendly using only a water soluble PVC Safe ionizing surfactant spray. Other sonics and vacuum or manual cleaning methods can only clean surfaces as the PVC repels water and soaps as both have the same relative slightly negative electrical charge. Like chares repel, that is why cleaning agents "pool" on the record as they are repelled by the record.

Our process ionizes the record. It changes the charge to a slight positive attracting the effects of cavitation and the plasma wave.  

This is not a home-made, DIY product. Scientific analysis proves our process. Records need to be spaced no less than 1.78 inches apart to see all grooves cleaned and release agent removed, thus restoring the record.
Our system meets electrical and safety standards. (ETL Certified to meet CSA, UL, PS, CE)
Safe for shellacked or lacquered records, restores, not just "surface—cleans". (2 minute cycle)
Strips out the record release agents from 50-70 years ago as well as those found on new records (where the clicks and pops lie). Dust at the factory settles on the hot record that came out of the press, embedded in the release agent, causing those unwanted pops. After Kirmuss Cleaning and Restoration: Gain of 1.3-1.5 dB even on a new record over floor after release agent removal.
The Kirmuss process strips out remaining contaminants/films from prior cleaning methods including those left by air drying  or by other ultrasonic machines and vacuum drying.
Strips out coatings or residues  which affect sound from prior cleaning products sold that coat the record by way of residue.
Now: as the needle and its dyne makes proper contact with the record's grooves after restoration, this provides 1.3 to 4 db increase in signal depending on the record and its provenance.
SURFACE CLEANS IN 2 MINUTES 4 RECORDS AT A TIME: CLEANS AND RESTORES 4 RECORDS AT A TIME REMOVING THE RELEASE AGENT IN  12 to 15 or 15 TO 25 MINUTES depending on using a 2 minute or 5 minute cycle! (Consult the FAQ section as to when to revert to a 2 minute cycle.)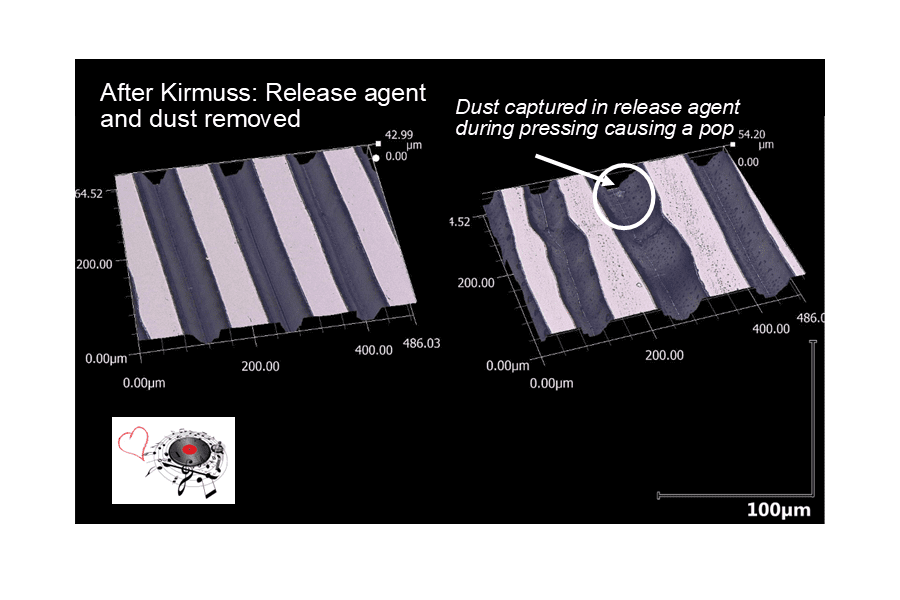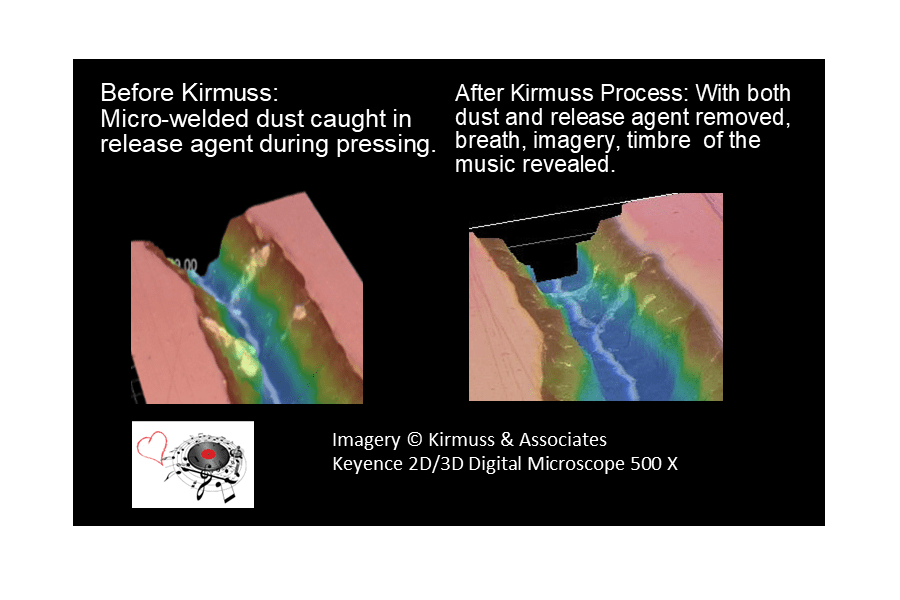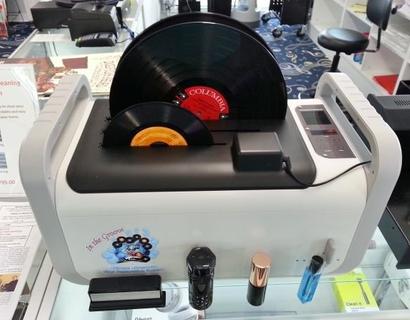 What is included with the System?
Record Assembly.
Ultrasonic Bath Assembly. AC Power Mains Lead.
Combination Carbon Fiber Brush/Parastatic Felt Brush
Ionizing Surfactant Spray (60 ml) that changes the charge of the record temporarily relative to that of water serving also as an Anti-fungal/Anti-Static Spray.
Goat Hair Brush to apply the ionizing surfactant onto the record.
Stylus Cleaning Kit
Optician's Microfiber Cloth
4" and 5" Felt Mat
Rabbit Microfiber Cloth for workstation space and drying out the rinsed goat hair brush between surfactant applications.
User Manual.
2 Year Warranty.
Not Supplied but required with the system per washing session: 6 Liters (1.78 Gallons) of Distilled water, 40 ml (1.4 ounces) of Isopropyl Alcohol 70% USED TO KILL LIVE AND DORMANT FUNGUS (not used as a cleaning agent, safe for records in concentration used.)